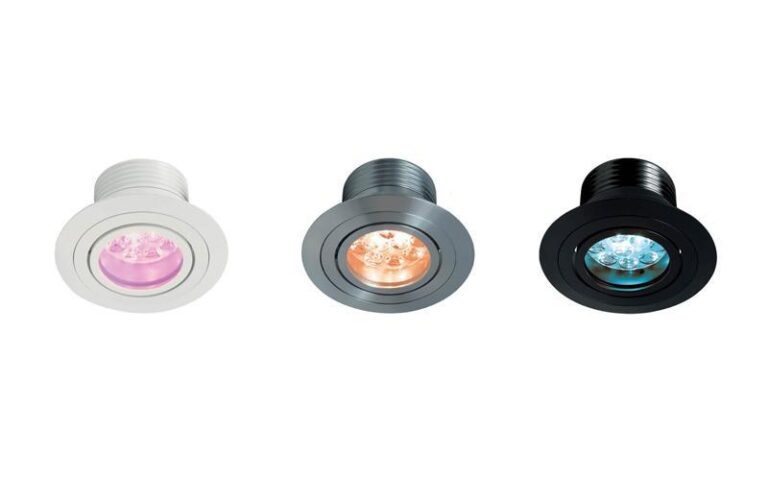 De Luxo 3 RGB is een hoogwaardig ColourFlow verlichtingsarmatuur welke perfect is voor het creëren van een unieke sfeer in elke ruimte. Met zijn CNC-gesneden aluminium behuizing biedt deze armatuur een uitstekende warmteafvoer en de verwisselbare lenzen zorgen voor optimale instelbaarheid om aan uw verlichtingsbehoeften te voldoen.
7 Watt, RGB kleurwisselend inbouw armatuur.
CNC gefreesd massief aluminium behuizing voor optimale koeling van de LED.
Typische applicaties
Alle toepassingen waarbij men bij bepaalde gelegenheden de sfeer in ruimtes wil kunnen aanpassen of objecten van kleur wil laten veranderen.
Grote keuze in montage platen
Ronde, vierkante & meervoudige montage platen zijn verkrijgbaar.
Externe DMX driver
De Luxo 3 RGB dient aangesloten te worden met een 3- of 4 kanaals constant current DMX driver. U kunt hiervoor onder meer de CLS LDC-41 driver gebruiken.
Optimale verstelbaarheid
De lichtbron is zowel in horizontale als verticale richting verstelbaar.
Verwisselbare optieken
Lenzen zijn snel en eenvoudig te verwisselen voor optimale afstelling.
Het armatuur is standaard voorzien van een 40º optiek.
Type
Luxo 3 RGB, Rotatable and tiltable downlighter
Colour
Black, White, Brushed Aluminium
Material
Anodized aluminium
Weight
172 gram
Swivel
30 horizontal, 360 vertical
Installation depth
10

---

Optics
40º | 60º
Light source
Luxeon
Power consumption
7 watt
CRI
>80
Led colours
RGB


---

Drive current
700 mA
Driver
Driver excluded | Driver external
Dimming
DMX512
Connection
RJ45 loop trough

---

Lifetime
50.000 h
Warranty
3 years

---

IP rating
IP 40 | IP
Protection class
3
Certifications
CE

---

Accessories
Soft diffusion filter, round, square, 2 way rectangular, 3 way rectangular mounting plate. LDV-45 DMX driver
Remarks
Anti glare function by recessed light source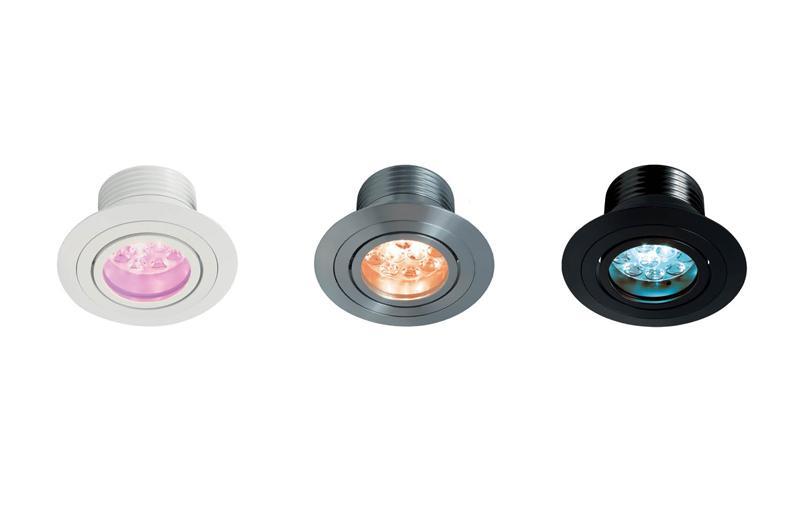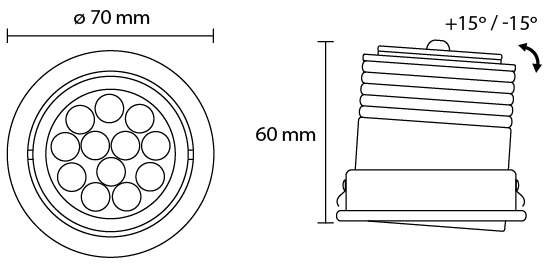 >

Artikelnummers
L-3-1-50-2 CLS Luxo 3 module 40° RGB IP40
L-3-2-50-2 CLS Luxo 3 module 40° RGB IP40 black
L-3-3-50-2 CLS Luxo 3 module 40° RGB IP40 white