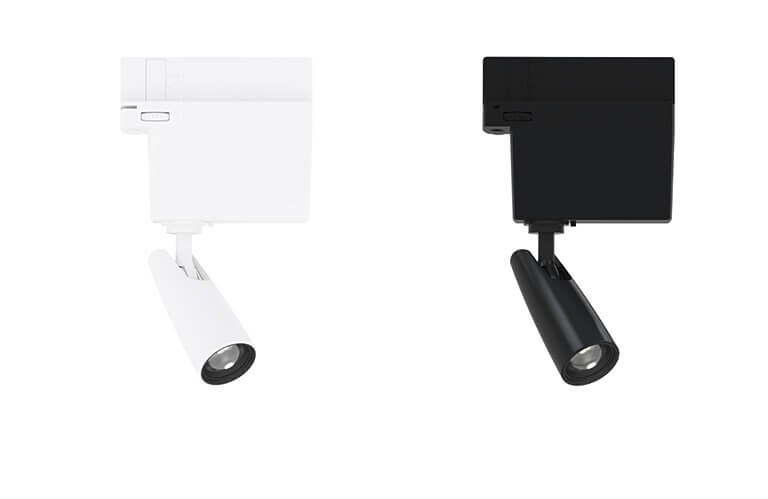 De Focus GIII is een krachtig zoom verlichtingsarmatuur die op elk oppervlak kan worden gemonteerd. Met een traploos zoombereik van 10°-70° en een gelijkmatige lichtbundel met zachte randen is de Focus perfect voor elke toepassing die precisieverlichting vereist. De Focus is beschikbaar in een witte of zwarte behuizing. Een accessoirehouder en een aanpasbare snoot zorgen ervoor dat u de perfecte look voor uw ruimte krijgt.
Uitstekende kleurweergave
Lichtontwerpers hebben de keuze uit meerdere lichtbronnen. Er is een keuze uit extra warm wit (2700K), warm wit (3000K), fris wit (3500K) en neutraal wit (4000K). Met een CRI van ≈95 is de kleurweergave uitstekend. Andere lichtkleuren zijn op aanvraag en onder voorbehoud van minimum order groottes mogelijk.
CLS Performance Zoom
Het CLS Performance Zoom systeem stelt gebruikers in staat om snel en eenvoudig de openingshoek van het licht in te stellen met een bereik van 10º tot 70º.
Horizontale & verticale vergrendeling
Alle varianten van de Focus beschikken over een traploze horizontale en verticale vergrendeling van het armatuur. Dit om te voorkomen dat na het nauwkeurig uitrichten van het armatuur, derden per abuis de positie van het armatuur veranderen en de lichtsetting niet meer volgens het oorspronkelijke lichtplan is.
Casambi
Met Casambi kan de Focus nauwkeurig en snel worden gedimd, zonder dat een extra data-infrastructuur moet worden geïnstalleerd. Dankzij het grote gebruiksgemak van Casambi kan iedereen, van professionals tot consumenten, de verlichtingsinstallatie aansturen. Bovendien is het voor professionals mogelijk om scènes te creëren waaruit de eindgebruiker vervolgens kan kiezen.
Magno Dim
CLS heeft het revolutionaire Magno Dim systeem ontwikkeld voor gebruikers die hun armaturen individueel willen kunnen dimmen, zonder gebruik te hoeven maken van externe regelapparatuur. Dit zeer ingenieuze systeem maakt het mogelijk om met slechts een kleine magneet dimwaarden op te slaan in het Focus-geheugen. Het systeem werkt uiterst nauwkeurig en snel. De diminstelling wordt binnen enkele seconden opgeslagen.
De Focus 230V varianten
> 230V Track versiant met Magno Dim control.
> 230V In-Track variant met Casambi of DALI control.
> 230V In-Track variant Non-dim.
Alle varianten kunnen worden voorzien van extensiepijpen voor maximale flexibiliteit bij projecten.
Type
Focus GIII T 230V, Track mounted Zoom Spot
Colour
Black, white
Material
Coated aluminium
Weight
265 gram
Swivel
360 horizontal, 90 vertical

---

Optics
10º-70º
Light source
Luxeon
Power consumption
7 watt
Light output
400 lumen
CRI
≈95
Led colours
2700K | 3000K | 3500K | 4000K


---

Drive current
230V
Driver
Driver excluded | Driver external
Dimming
Magno dim | DALI | Casambi
Connection
230V track adapter, 3-phase

---

Lifetime
50.000h
Warranty
3 years

---

IP rating
IP 20
Protection class
1
Certifications
CE

---

Accessories
Beam shapers and correction filter, filter holder, snoot
Remarks
Internal slot for correction/colour filters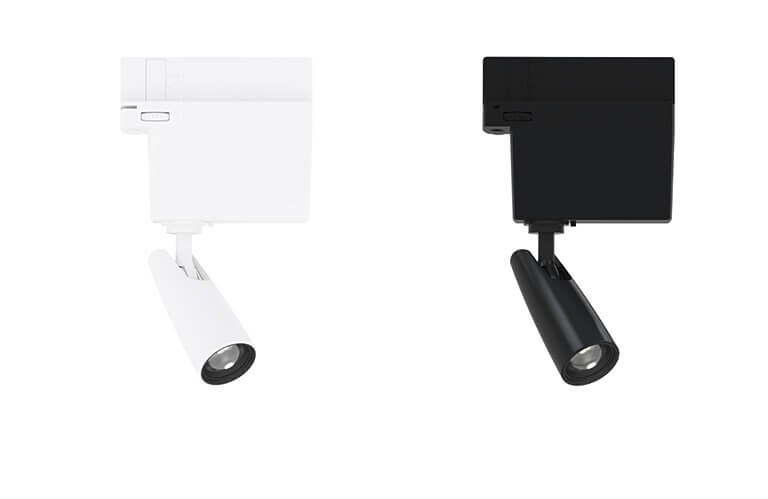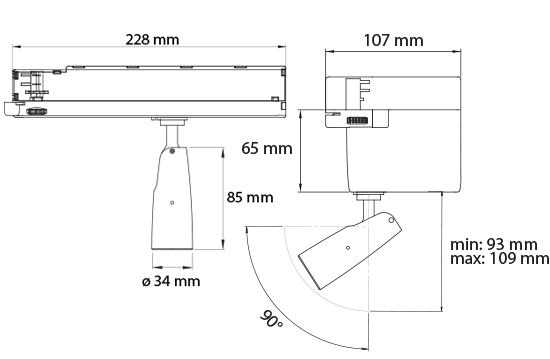 >

Photometrics

Dit zijn de meest voorkomende Photometric & LDT files. Staat uw configuratie hier niet tussen? Neem dan contact met ons op via info@cls-led.com
>

Artikelnummers
F3-TN-B-2795-Z CLS Focus GIII 230V In-Track, Non dim, 2700K, CRI≈95, black
F3-TN-W-2795-Z CLS Focus GIII 230V In-Track, Non dim, 2700K, CRI≈95, white
F3-TN-B-3095-Z CLS Focus GIII 230V In-Track, Non dim, 3000K, CRI≈95, black
F3-TN-W-3095-Z CLS Focus GIII 230V In-Track, Non dim, 3000K, CRI≈95, white
F3-TN-B-3595-Z CLS Focus GIII 230V In-Track, Non dim, 3500K, CRI≈95, black
F3-TN-W-3595-Z CLS Focus GIII 230V In-Track, Non dim, 3500K, CRI≈95, white
F3-TN-B-4095-Z CLS Focus GIII 230V In-Track, Non dim, 4000K, CRI≈95, black
F3-TN-W-4095-Z CLS Focus GIII 230V In-Track, Non dim, 4000K, CRI≈95, white
F3-TC-B-2795-Z CLS Focus GIII 230V In-Track, Casambi, 2700K, CRI≈95, black
F3-TC-W-2795-Z CLS Focus GIII 230V In-Track, Casambi, 2700K, CRI≈95, white
F3-TC-B-3095-Z CLS Focus GIII 230V In-Track, Casambi, 3000K, CRI≈95, black
F3-TC-W-3095-Z CLS Focus GIII 230V In-Track, Casambi, 3000K, CRI≈95, white
F3-TC-B-3595-Z CLS Focus GIII 230V In-Track, Casambi, 3500K, CRI≈95, black
F3-TC-W-3595-Z CLS Focus GIII 230V In-Track, Casambi, 3500K, CRI≈95, white
F3-TC-B-4095-Z CLS Focus GIII 230V In-Track, Casambi, 4000K, CRI≈95, black
F3-TC-W-4095-Z CLS Focus GIII 230V In-Track, Casambi, 4000K, CRI≈95, white
F3-TA-B-2795-Z CLS Focus GIII 230V In-Track, DALI, 2700K, CRI≈95, black
F3-TA-W-2795-Z CLS Focus GIII 230V In-Track, DALI, 2700K, CRI≈95, white
F3-TA-B-3095-Z CLS Focus GIII 230V In-Track, DALI, 3000K, CRI≈95, black
F3-TA-W-3095-Z CLS Focus GIII 230V In-Track, DALI, 3000K, CRI≈95, white
F3-TA-B-3595-Z CLS Focus GIII 230V In-Track, DALI, 3500K, CRI≈95, black
F3-TA-W-3595-Z CLS Focus GIII 230V In-Track, DALI, 3500K, CRI≈95, white
F3-TA-B-4095-Z CLS Focus GIII 230V In-Track, DALI, 4000K, CRI≈95, black
F3-TA-W-4095-Z CLS Focus GIII 230V In-Track, DALI, 4000K, CRI≈95, white
F3-TM-B-2795-Z CLS Focus GIII 230V On-Track, Magno, 2700K, CRI≈95, black
F3-TM-W-2795-Z CLS Focus GIII 230V On-Track, Magno, 2700K, CRI≈95, white
F3-TM-B-3095-Z CLS Focus GIII 230V On-Track, Magno, 3000K, CRI≈95, black
F3-TM-W-3095-Z CLS Focus GIII 230V On-Track, Magno, 3000K, CRI≈95, white
F3-TM-B-3595-Z CLS Focus GIII 230V On-Track, Magno, 3500K, CRI≈95, black
F3-TM-W-3595-Z CLS Focus GIII 230V On-Track, Magno, 3500K, CRI≈95, white
F3-TM-B-4095-Z CLS Focus GIII 230V On-Track, Magno, 4000K, CRI≈95, black
F3-TM-W-4095-Z CLS Focus GIII 230V On-Track, Magno, 4000K, CRI≈95, white