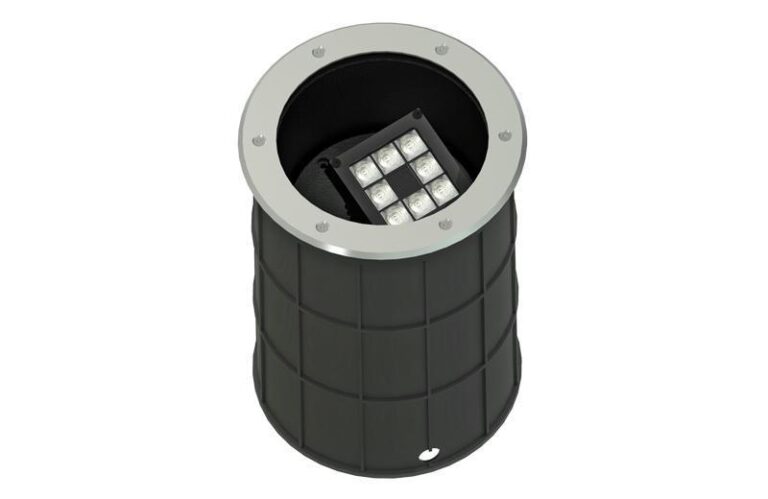 De Revo Inground DMX is een hoogwaardig en duurzaam armatuur dat eenvoudig te installeren en te configureren is. Met de IP67 rating is de Revo perfect voor gebruik in elke buitenomgeving. Eenvoudige en nauwkeurige regeling via DMX512 maakt dit armatuur tot een veelzijdige en krachtige verlichtingsoplossing voor elke installatie.
20 watt, IP67-geclassificeerde armatuur. Een perfecte oplossing voor het verlichtingssysteem van elke locatie. De hoogwaardige roestvrijstalen frontring en anti-corrosiebehuizing garanderen een lange levensduur. De Revo Inground DMX kan worden aangestuurd via DMX512, wat een nauwkeurige regeling mogelijk maakt. Alle elektronica is volledig geïntegreerd, dus er is geen externe driver nodig.
Veel keuzemogelijkheden
Grote keuze in lichtkleuren en licht openingshoeken.
Optimale verstelbaarheid
De lichtbron is zowel in horizontale als verticale richting verstelbaar. De lichtbundel kan dus eenvoudig na montage nog aangepast worden qua richting.
Condens preventie
Uitgevoerd met een Gore-Tex membraan in de wartel, waardoor condensvorming geminimaliseerd wordt.
Optimale duurzaamheid
Alle onderdelen zijn individueel eenvoudig verwisselbaar.
Het armatuur is derhalve een solide langetermijninvestering.
Configureerbaar
Meer dan 200 mogelijke product varianten.
Stel binnen 30 seconden uw eigen variant samen op onze website.
Eenvoudige installatie
Armatuur is voorzien van 5 aderige DMX combi kabel.
Levering inclusief gel mof kit voor waterdichte aansluiting.
Type
Revo Inground DMX, Outdoor Inground
Colour
Die cast housing + anti corrosion housing: black. Cover ring: stainless steel colour
Material
Marine grade 316 stainless steel mounting ring. Stainless steel 316 mounting screws. ABS plastic anti corrosion housing. Aluminum die cast housing.
Weight
6950 gram
Swivel
horizontal, 50 vertical
Mounting hole
25,5 cm
Installation depth
35,5 cm

---

Optics
8º | 12º | 30º | 61º | 80º | 12x46º
Light source
High Power LED
Power consumption
20 watt
Light output
2000 lumen
CRI
80
Led colours
2200K | 2400K | 2700K | 3000K | 4000K | 5000K | 6500K | amber | blue | red | green


---

Drive current
200~277 | 700
Driver
Driver included | Driver internal
Dimming
Mains dimmable | Casambi | DMX512
Connection
Cable with open end
Cable length
200 cm

---

Warranty
3 years

---

IK-class
IK10
IP rating
IP 67
Protection class
3
Certifications
CE
Energy label
A

---

Remarks
Ventilation gland with Gore-Tex membrane fitted to avoid moisture and condensation Fitted with a 5 core DMX combi cable Beam direction adjustable in multiple directions due to solid ball joint Double IP67 protection.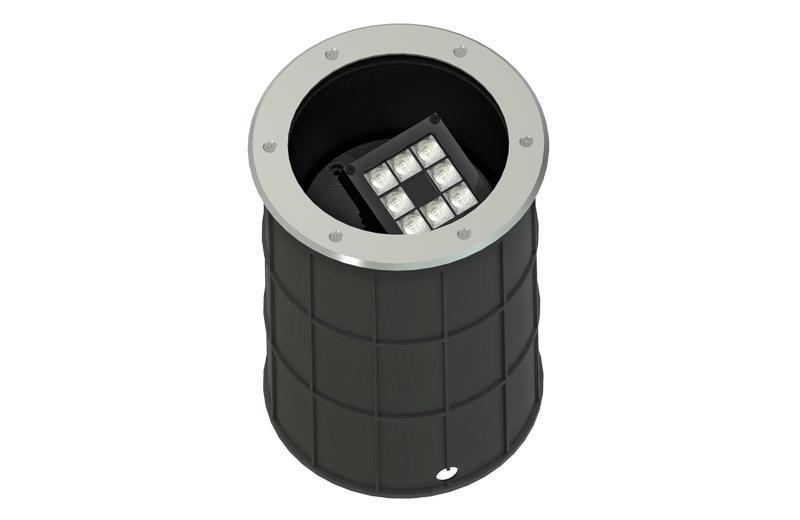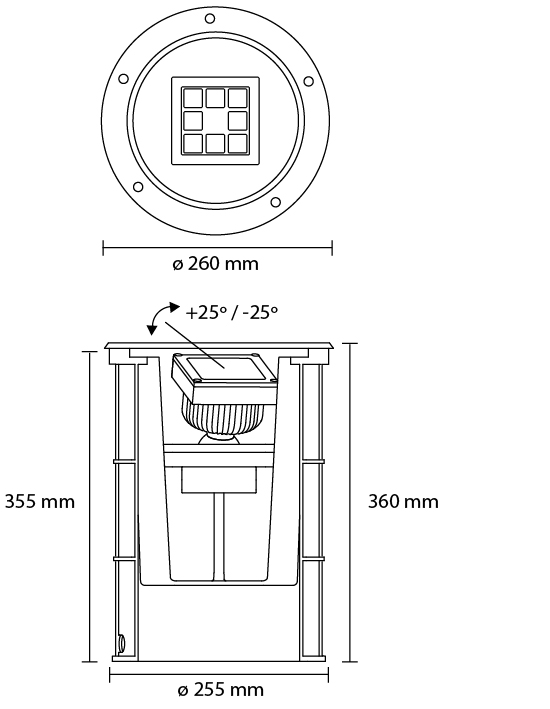 >

Photometrics

Dit zijn de meest voorkomende Photometric & LDT files. Staat uw configuratie hier niet tussen? Neem dan contact met ons op via info@cls-led.com