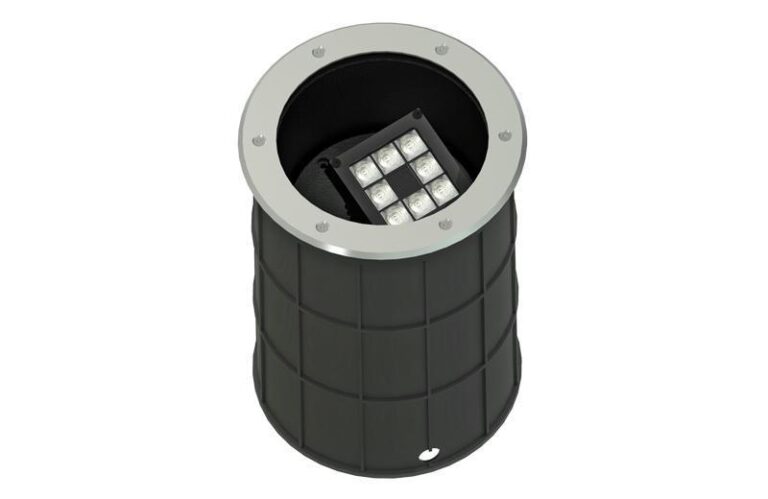 The Revo Inground lighting fixture is a high-quality, sustainable product that is easy to install and configure. With its IP67 rating, it is perfect for use in any outdoor setting. Easy and precise control via DMX512 makes this fixture a versatile and powerful lighting solution for any installation.
The 20W, IP67 rated fixture is a perfect addition to any locations' illumination system. The high-grade stainless steel front ring and anti-corrosion housing ensure a great lifespan. It can be controlled via DMX512, which allows precise control. All electronics are fully integrated, so there is no need for an external driver.
Configurable in many ways
Large choice in light colour & beam angles.
Perfect beam control
Beam direction adjustable in multiple directions due to solid ball joint.
Therefore, the beam direction can be even adjusted after installation.
Condensation prevention
The fixtures are designed with an innovative ventilation system with Gore-Tex Membrane that helps prevent condensation from forming inside the lights, protecting them against water damage.
Sustainable design
The Revo Inground DMX is future-proof because all parts are interchangeable, meaning that it will never be outdated.
Configurable
The possibilities of configuration options are virtually limitless with this product. You can create your own version in seconds on our website!
Easy installation
5 core DMX combi cable on the fixture.
Gel sleeve included for waterproof connection.
Number of DMX channels needed per LED colour
Type
Revo Inground DMX, Outdoor Inground
Colour
Die cast housing + anti corrosion housing: black. Cover ring: stainless steel colour
Material
Marine grade 316 stainless steel mounting ring. Stainless steel 316 mounting screws. ABS plastic anti corrosion housing. Aluminum die cast housing.
Weight
6950 gram
Swivel
50° vertical
Mounting hole
25,5 cm
Installation depth
35,5 cm
Pressure
15 kg/cm2
Ambient temperature
-10°C till 40°C

---

Optics
8º | 12º | 30º | 61º | 80º | 12x46º
Light source
High Power LED
Light output
2000 lumen
CRI
80
LED colours
2200K | 2400K | 2700K | 3000K | 4000K | 5000K | 6500K | amber | blue | red | green


---

Power consumption
Max. 20 Watt
Power supply
200~277 VAC
Driver
Driver included | Driver internal
Dimming
Mains dimmable | Casambi | DMX512
Connection
Cable with open end
Cable length
200 cm

---

IK-class
IK10
IP rating
IP 67
Protection class
3
Certifications
CE
Energy label
A

---

Lifetime
50.000 hours
Warranty
3 years

---

Remarks
Ventilation gland with Gore-Tex membrane fitted to avoid moisture and condensation Fitted with a 5 core DMX combi cable Beam direction adjustable in multiple directions due to solid ball joint Double IP67 protection.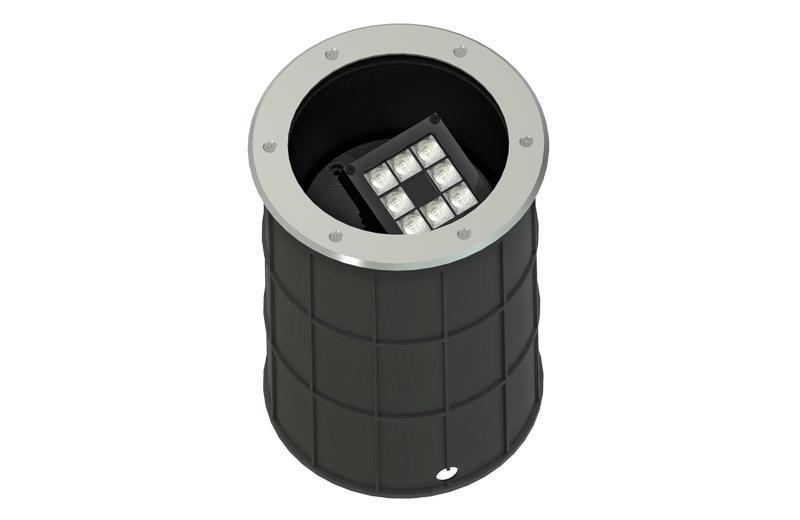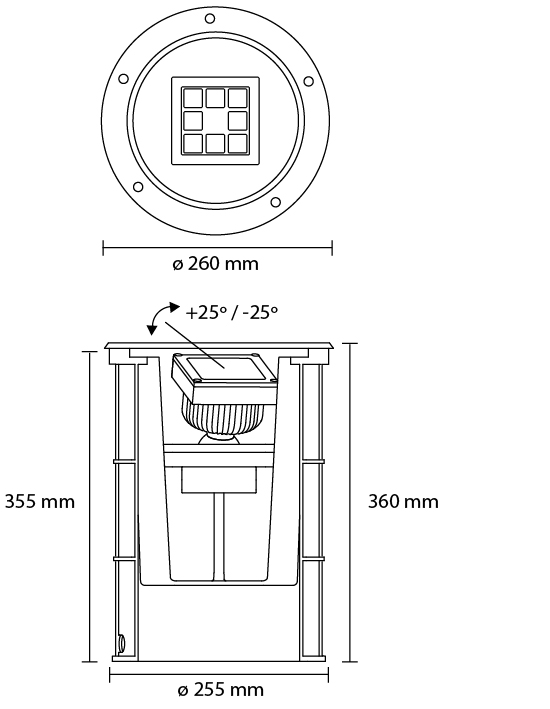 >

Photometrics

These are the Photometric and LDT files for the most popular configuration(s). Please contact us via info@cls-led.com if your choice is missing from the list.