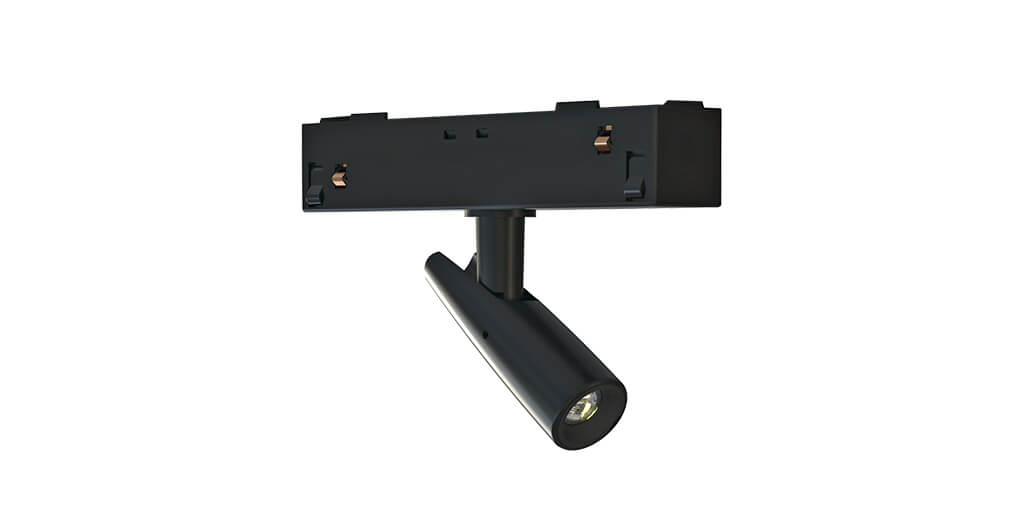 When selecting a fixture for your project, it is important that it fits perfectly in your project. We at CLS have various fixtures series with their own specifications, and many possible configurations, so you can alter them to your application. The manual of your fixtures will tell you what track is needed, so you can be sure to select the one that is best suited for your needs.
The Jade Series is a high quality track fixture series that is perfect for any space that needs excellent colour reproduction. With various LED light sources, specific for use in museums, galleries, and for the following product groups: clothing, furniture, kitchens, jewellery, shoes, bread, meat, fish, vegetables & fruit, you can configure the Jade to be a perfectly fit for any project.
The Focus Series is a powerful zoom fixture that is perfect for any application that requires precision lighting. Typical applications of this unobtrusive track fixture are museums and galleries, shops, in low ceiling rooms and residential spaces. Look further for all the specifications of this small track fixture. 
The Revo Series is a CNC cut, massive aluminium track fixture series that is perfect for a variety of applications. With its interchangeable optics, configurable control methods and many available LED colours, this fixture series can be customized to create the perfect light setting for any space. It is the perfect fit for shops, museum & galleries, hotels, bars, restaurants and residential environments. 
The Ruby Series is a track series with a timeless design, which ensures a perfect blend with every interior design. It is the perfect lighting solution where downlighters are not an option. Typical applications for this fixture are showrooms and shops, reception areas, public areas in museums, offices, theatres, concert halls, churches, crematoria and many more. 
The Lina Series is an extremely slim and compact fixture series. With its innovative diffused technology, it offers softer, homogeneous lighting. The DF is a perfect match for general lighting, and the HP for objects and paintings.  Typical applications for these track fixtures are front desks, offices, working space lighting and general lighting in public spaces. 
The Ultima Track is an ultraslim fixture that is perfect for museums, galleries, residential spaces, luxury offices and high-end retail environments. It has a low UGR value that ensures unmatched visual comfort in all applications. The Ultima track is available with 5 different beam angles, with which you can create a narrow spot of 8° to an even oval beam of 12° x 46°. 
Bleiben Sie auf dem Laufenden
>
WANT TO KNOW MORE ABOUT TRACK LIGHTING?
Want to know more about track and compatible fixtures? Look at our product pages to see which products are compatible with track, or contact us. We are happy to help.