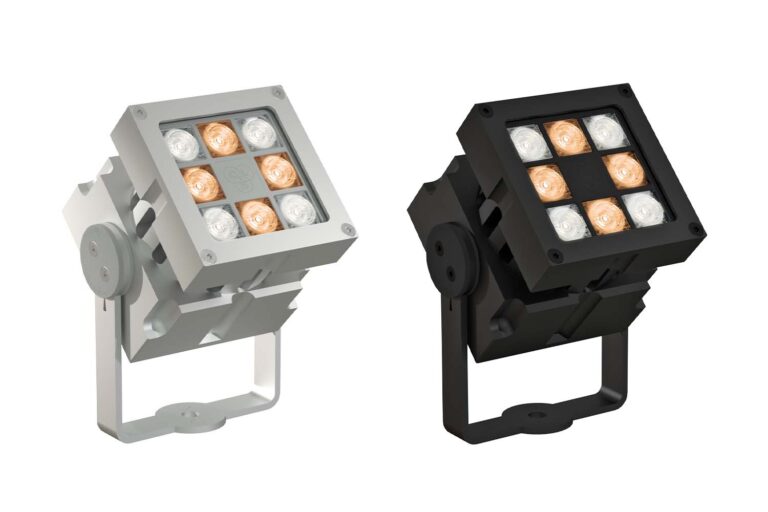 The Revo Tunable White gives you everything that's needed to create atmospheres. This fixture can be managed wirelessly via Casambi or (Wireless) DMX and is available with several Tunable White LED modules and many beam angles.
Compact 20 Watt, IP67, DMX512 surface mount fixture.
CNC cut, massive aluminium housing.
Typical applications
Façade lighting, gardens, landscape, (art) objects, bridges & all other applications where a compact fixture with a surprisingly high light output is required.
Condensation prevention
Ventilation Gland with Gore-Tex membrane, which minimizes the risk of condensation inside the fixture.
Sustainable design
Future-proof; as all parts are easily interchangeable, the Revo Tunable White will never be outdated.
Configurable
More than 800 different configurations are possible. Create your own version within 30 seconds on our website.
Interchangeable optics
Lenses are fast and easily interchangeable for creating an optimal light setting on the job.
Easy installation
All electronics fully integrated, no external drivers required. Easy installation with 5 core DMX combi cable & Wago connectors.
Number of DMX channels needed per LED colour
Type
Revo Tunable White DMX, IP67 Outdoor Tunable White Fixture
Colour
Blank or black
Material
CNC cut aluminium
Weight
1800 gram
Swivel
360° horizontal | 270° vertical
Ambient temperature
-10ºC to 40ºC

---

Optics
8º | 12º | 30º | 60º | 80º | 12 x 46º
Light source
High Power LED
Light output
2000 lumen
CRI
>80
LED colours
1800K-3000K | 1800K-4000K | 2700K-5000K


---

Power consumption
Max. 20 Watt
Power supply
100~240 VAC
Driver
Driver included | Driver internal
Dimming
Casambi | DMX512 | Wireless DMX
Connection
Cable with open end
Cable length
200 cm

---

IP rating
IP 67
Protection class
1
Certifications
CE

---

Lifetime
50.000 hours
Warranty
3 years

---

Technologies
Dynamic Power Control | Dynamic Temperature Control
Accessories
Snoot, wall bracket, ground pin, extension pipe
Remarks
Ventillation gland with Gote-Tex membrane to avoid condensation