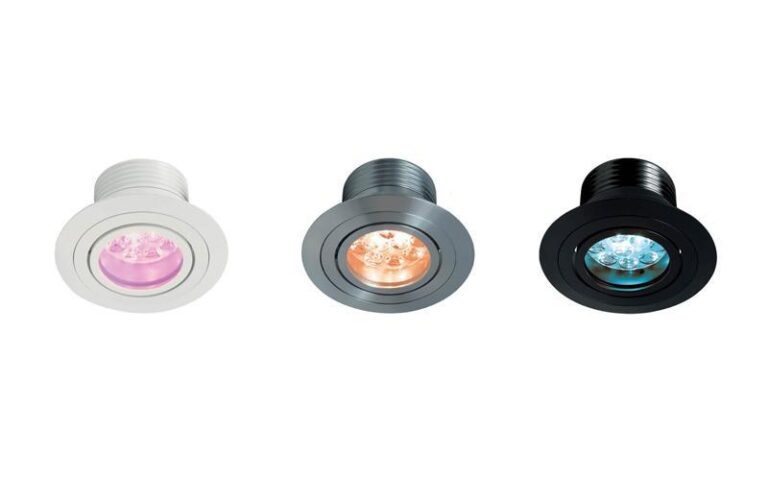 The Luxo 3 RGB is a high-quality ColourFlow LED lighting fixture that is perfect for creating a unique atmosphere in any space. With its CNC-cut aluminium housing and adjustable optics, this fixture provides excellent heat dissipation and optimal adjustability to suit your needs.
7 Watt, RGB colour changing downlighter.
CNC cut massive aluminium housing for optimal heat dissipation of the LED.
Typical applications
All applications where it is required to change the mood in a room or where one wants to change the colour of objects.
Large choice in mounting plates
Round, square and 2, 3 and 4-way mounting plates available
External DMX driver
The Luxo 3 RGB needs to be connected with an external 3 or 4 channel constant current DMX driver, for instance the CLS LDC-41 driver.
Optimal adjustability
Both horizontally and vertically adjustable.
Interchangeable optics
Lenses can be changed easily on the spot.
40º lens is fitted as standard.
Number of DMX channels needed per LED colour
Number of DMX channels needed
LED colour
1
2
3
4
Single colour
Tunable White
ColourFlow
Type
Luxo 3 RGB, Rotatable and tiltable downlighter
Colour
Black, White or Brushed Aluminium
Material
Anodized aluminium
Weight
172 gram
Swivel
30° horizontal | 360° vertical
Installation depth
10

---

Optics
40º | 60º
Light source
High Power LED
CRI
>80
LED colours
RGB


---

Power consumption
Max. 7 Watt
Drive current
700 mA
Driver
Driver excluded | Driver external
Dimming
DMX512
Connection
RJ45 loop trough

---

IP rating
IP 40
Protection class
3
Certifications
CE

---

Lifetime
50.000 hours
Warranty
3 years

---

Accessories
Soft diffusion filter, round, square, 2 way rectangular, 3 way rectangular mounting plate. LDV-45 DMX driver
Remarks
Anti glare function by recessed light source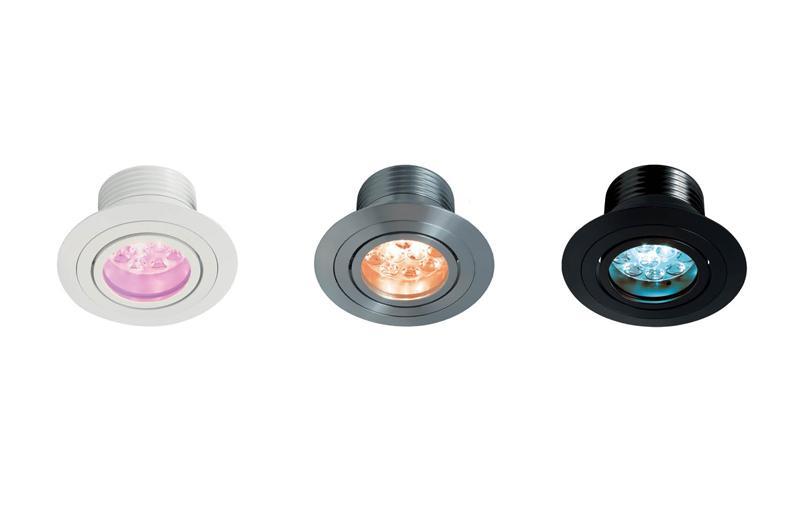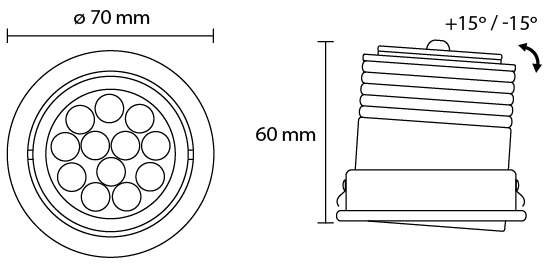 >

Article numbers
L-3-1-50-2 CLS Luxo 3 module 40° RGB IP40
L-3-2-50-2 CLS Luxo 3 module 40° RGB IP40 black
L-3-3-50-2 CLS Luxo 3 module 40° RGB IP40 white