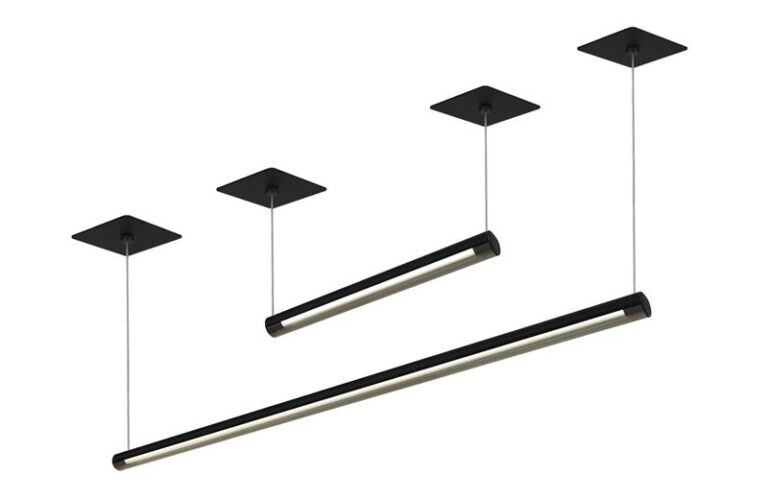 An extremely compact, modular linear lighting solution that is perfect for a wide range of applications. With its barely noticeable suspension and power cable and timeless design, the Lina DF is a versatile fixture that can be used in any environment. The Lina DF is available in 4 different LED colours, with a CRI up to 95.
Extremely compact modular, free suspended, linear lighting solution.
Innovative new technology
Diffused technology offers some big advantages;
The light is very soft, homogenic and shadow free, the beam angle reaches 120 degrees and even with very cold light it's possible to reach a CRI>95.
Typical applications
Front desk lighting, office lighting, work space lighting, general lighting in public spaces, atrium lighting & basically everywhere where an excellent light output needs to be combined with a sophisticated design.
Extremely compact
With a diameter of only 28 mm and an attractive oval design usable in all sorts of environments.
Create your own fixture
With a few simple mouse clicks, create the perfect lighting solution for your project.
Choice of all possible dimming methods
Number of DMX channels needed per LED colour
Number of DMX channels needed
LED colour
1
2
3
4
Single colour
Tunable White
ColourFlow
Type
Lina Suspended DF, Suspended Linear Track Fixture
Colour
Black or white
Material
Anodized or coated aluminium

---

Optics
120°
Light source
High Power LED
CRI
>95
LED colours
2200K | 2700K | 3000K | 4000K


---

Power consumption
Max. 6 - 18 Watt
Drive current
500 mA
Driver
Driver excluded | Driver external
Dimming
Mains dimmable | 1-10V dimmable | DALI | Casambi | DMX512
Connection
Wire
Cable length
180 cm max

---

IP rating
IP 20
Protection class
1
Certifications
CE

---

Lifetime
50.000 hours
Warranty
3 years

---