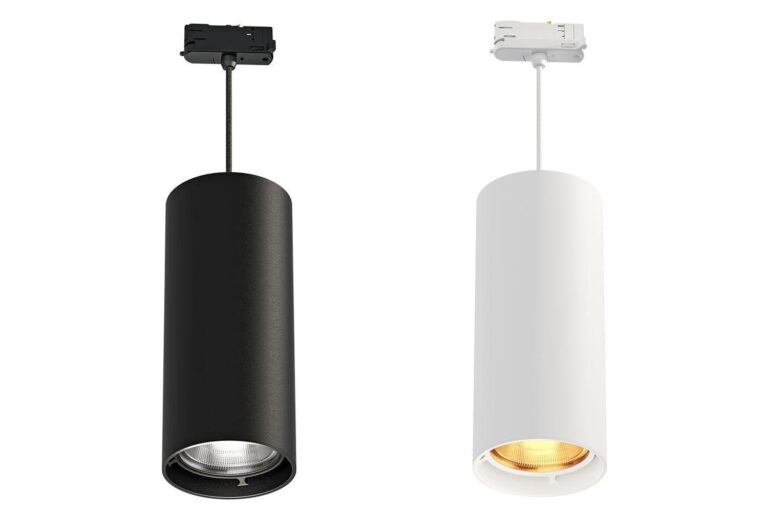 Ruby Pendant Track Tunable White
The Ruby is a versatile and adaptable lighting fixture that is perfect for any space. With tunable white lighting, you can adjust the light to suit your needs at any given time, making it a great option for circadian lighting in theatres, museums, churches, atriums and workspaces.
Unique lighting opportunities & concepts are now possible with the Ruby Tunable White Series.
Tunable White
Tunable white lighting is a type of lighting that can be adjusted to different temperatures. In this case, ranging from 1800-4000K, and 2700-5700K. This allows for a more versatile lighting experience, as you can change the light to suit your needs at any given time. You can use tunable white lighting for circadian lighting in workspaces and homes, as well as for special effects in for example retail and hospitality settings. Human centric lighting has been shown to improve well-being, productivity, and sleep quality, so it's no wonder that more and more people are choosing tunable white lighting for their projects. If you're looking for a versatile lighting solution that can be tailored to your needs at any time, tunable white lighting is a great option.
Typical applications
The applications are numerous. Concert halls, theatres, showrooms, museum & galleries, event centres, churches, atriums and all other spaces where one wants to have functional white light with the possibility of changing the colour temperature in order to change the atmosphere by using an architectural design fixture.
Direct DMX 512 control of light intensity and colour temperature
Choose between:
> Full analogue dimming
> Hybrid dimming
> PWM dimming
Compatibilities

Number of DMX channels needed per LED colour
Number of DMX channels needed
LED colour
1
2
3
4
Single colour
Tunable White
ColourFlow
Type
Ruby Pendant Track Tunable White, Pendant spot
Colour
Black or white
Material
Aluminium
Weight
3500 gram

---

Optics
16º | 49º | 63º
Light source
CLS Dynamic Colour COB
LED colours
1800K-4000K | 2700K-5700K


---

Power consumption
Max. 90 Watt
Power supply
80~264 VAC
Driver
Driver included | Driver internal
Dimming
DMX512 | DMX Analog dimmable | DMX Hybrid dimmable | PWM dimmable
Cable length
200cm - 800cm

---

IP rating
IP 20
Protection class
1
Certifications
CE

---

Lifetime
50.000 hours
Warranty
5 years

---

Accessories
Reflectors with different beam angles, honeycomb louvre