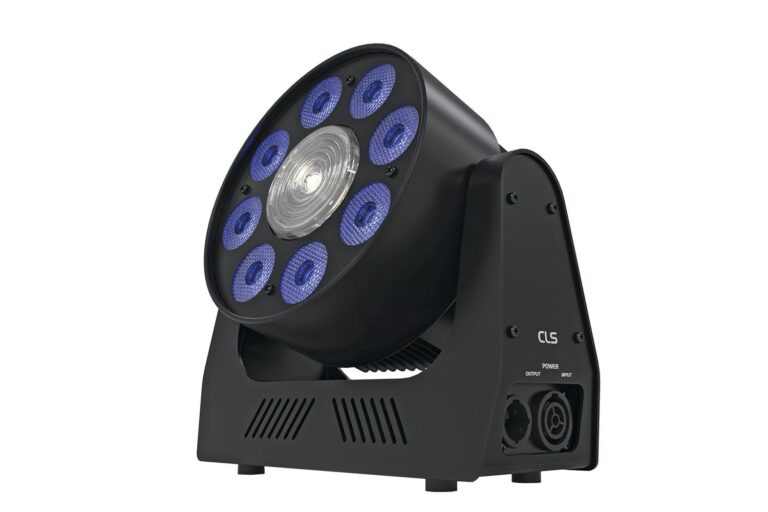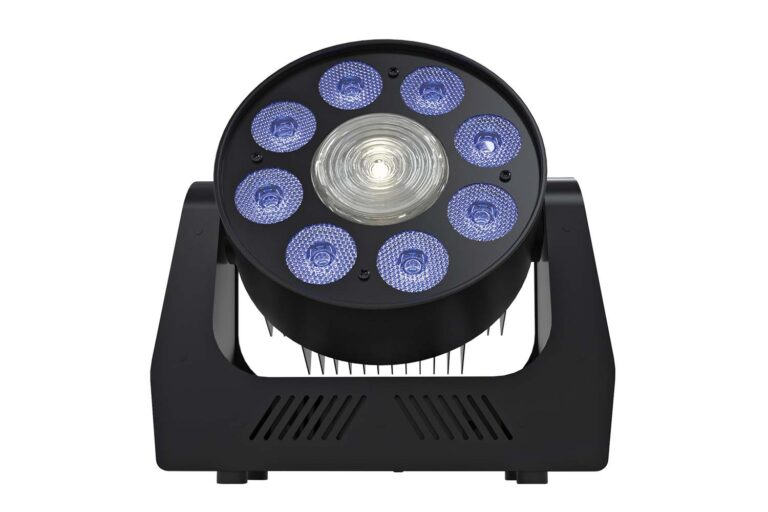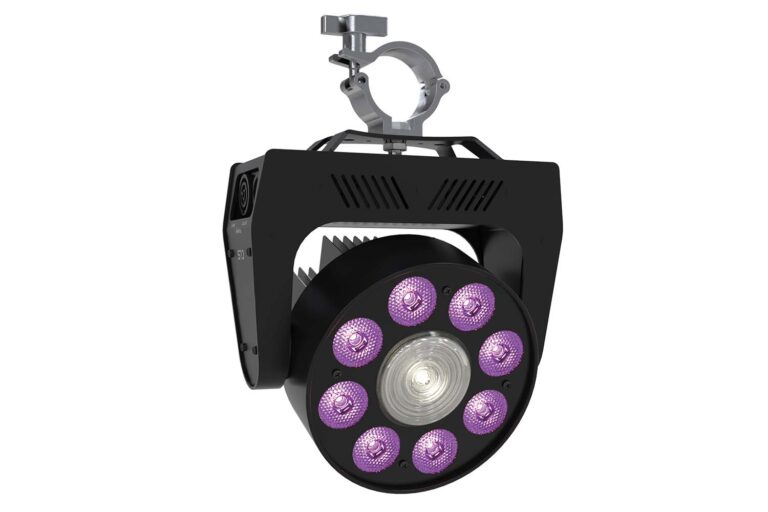 The Krypton offers both high CRI white light for general lighting applications, and mood creating coloured light settings. Due to its high effective lumen output, the Krypton is the perfect lighting solution for large and high venues. The fixture is completely silent in use, as it uses no fans.
High Quality white light + RGB LED light source
The Krypton uses a large COB LED module for the white light. A choice of several colour temperatures & CRI values are available. As the white light component of the units is a pure white light module, there is no risk of so called colour shifting as is often seen with fixtures that use RGBW/RGBA LED modules to create white light. The RGB modules are fitted with the latest generation of high power LED's.
Fully integrated DMX electronics
The Krypton offers different dimming methods:
> Hybrid dimming.
> Full Analog dimming.
Camera flickering is no longer an issue with the Hybrid or Full Analogue dimming setting. Soft, smooth dimming to very low levels is ensured with the special Dynamic Soft Dim channel.
Modular design
As the krypton series are fully modular built, the fixture has the possibility to be upgraded to future developments, ensuring that the units can never be outdated. Due to the very effective heat sink, there is no need for active cooling, ensuring that maintenance activities are kept to a minimum. Choose your own data connecting system Daisy-chaining the signal is possible with a choice of:
> Neutrik Ethercon RJ45 connectors.
> XLR 3 pole.
> XLR 5 pole.
> Wireless DMX.
Multiple mounting possibilities
The Krypton can be used with the available accessories as a: Floor standing fixture or as a bracket/pendant mount fixture.
Accessories
A honey comb louvre is available for the Krypton. With this available option, lighting designers can create the perfect light setting in each environment.
Typical applications
The applications are numerous. Concert halls, theatres, event centres, houses of worships and other spaces where one wants to have high quality white light with the possibility of creating different moods by programming colours.
Number of DMX channels needed per LED colour
Number of DMX channels needed
LED colour
1
2
3
4
Single colour
Tunable White
ColourFlow
Type
Krypton, Surface mounted fixture for general & effect lighting
Colour
Black or white
Material
Powder coated aluminium
Weight
2500 gram
Swivel
180° vertical

---

Optics
White LED 24º | White LED 35º | White LED 60º | RGB 10º | RGB 25º | RGB 35º
Light source
High Power LED
CRI
>80, >90
LED colours
2700K | 3000K | 4000K
RGB


---

Power consumption
Max. 93 Watt
Power supply
100~240 VAC
Driver
Driver included | Driver internal
Dimming
DMX512 | Wireless DMX | DMX Analog dimmable | DMX Hybrid dimmable

---

IP rating
IP 20
Protection class
1
Certifications
CE

---

Lifetime
50.000 hours
Warranty
5 years

---

Accessories
Honey comb louvre
Remarks
Passive cooling, completely silent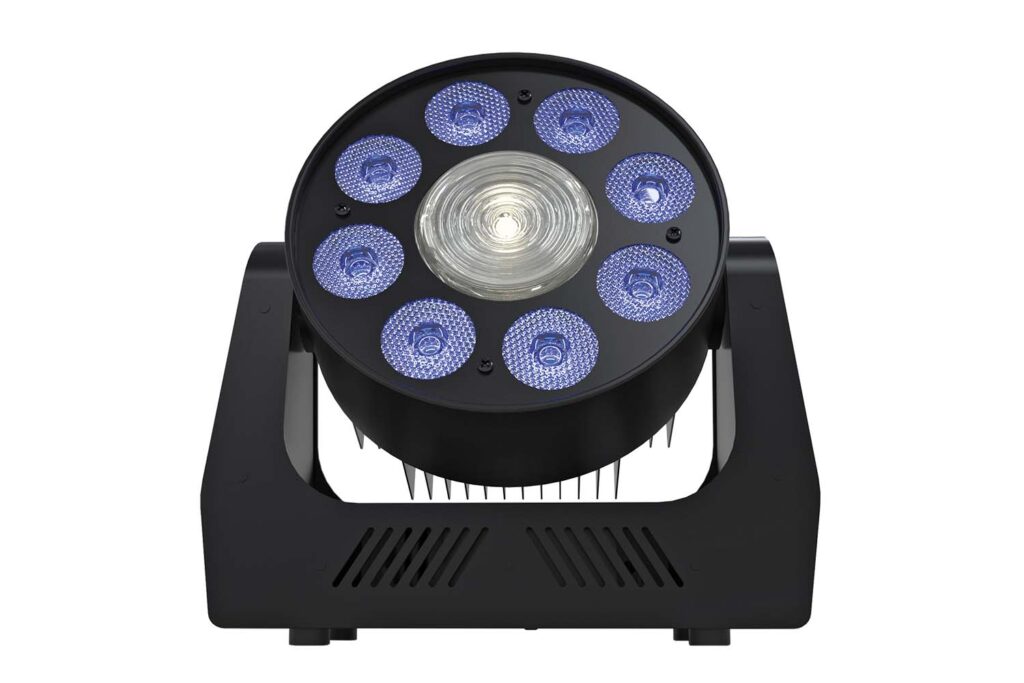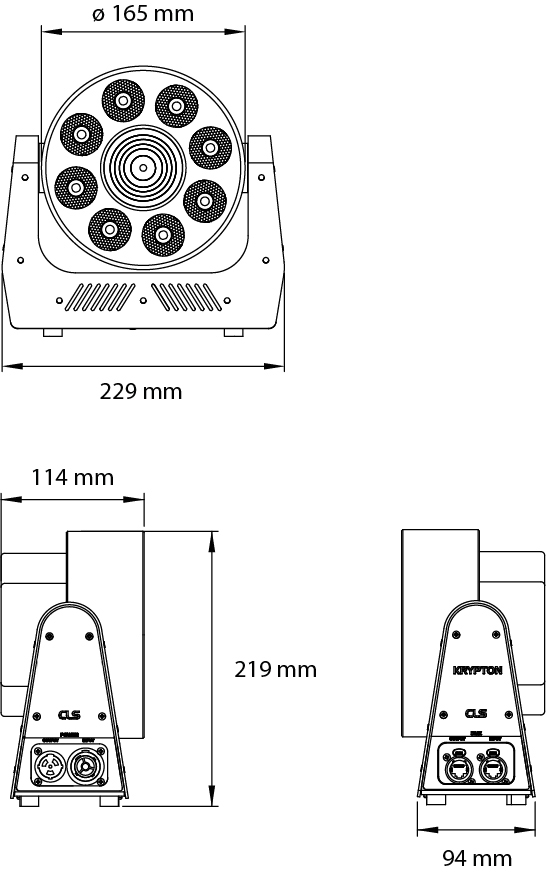 >

Photometrics

These are the Photometric and LDT files for the most popular configuration(s). Please contact us via info@cls-led.com if your choice is missing from the list.