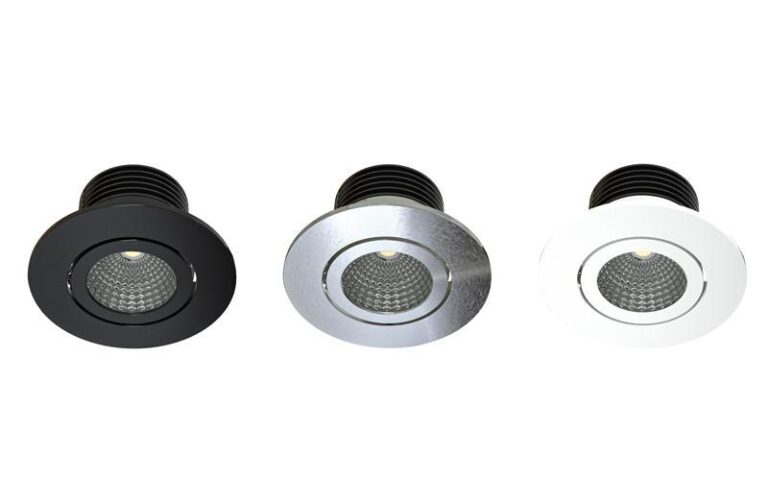 The Luxo 3 Basic CoB lighting fixture is a compact and powerful downlight that is perfect for replacing halogen lamps in a variety of applications. With a choice of black, white, or blank aluminium finishes, this fixture is versatile and stylish. The CNC-cut massive aluminium housing ensures optimal heat dissipation for the LED.
10 Watt, compact downlighter.
Black, white or blank aluminium finish.
CNC cut massive aluminium housing for optimal heat dissipation of the LED.
Typical applications
Replacement of 50 Watt halogen lamps in all possible applications.
Large choice in dimming methods
All possible dimming methods are available including DMX512, DALI & Bluetooth dimming.
Optimal adjustability
Both horizontally and vertically adjustable.
Interchangeable optics
Reflectors can be changed easily on the spot.
60º reflector fitted as standard.

Type
Luxo 3 Basic CoB, Downlighter
Weight
220 gram
Swivel
350° horizontal | 30° vertical
Mounting hole
7,5 cm
Installation depth
10 cm

---

Optics
28º | 38º | 62º
Light source
High Power CoB
Light output
600 lumen
CRI
80
LED colours
2700K | 3000K


---

Power consumption
Max. 10 Watt
Drive current
700mA
Driver
Driver excluded | Driver external
Dimming
Mains dimmable | 1-10V dimmable | Casambi | DMX512
Connection
CLS Smart connect system
Cable length
100 cm

---

IP rating
IP 40
Protection class
3
Energy label
A

---

Lifetime
50000 hours
Warranty
3 years

---

Remarks
Anti glare function by recessed light source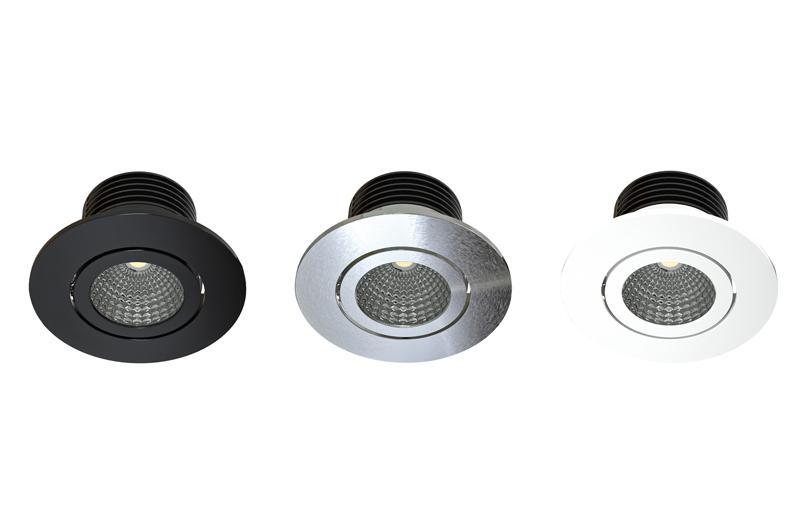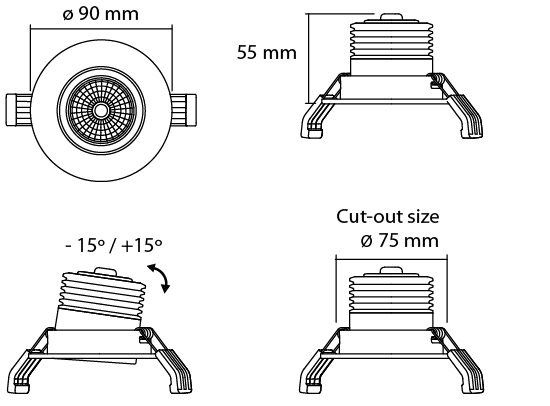 >

Photometrics

These are the Photometric and LDT files for the most popular configuration(s). Please contact us via info@cls-led.com if your choice is missing from the list.
>

Article numbers
L-3-1-13-3 CLS Luxo 3 Basic CoB 3000K 62° alu
L-3-1-14-3 CLS Luxo 3 Basic CoB 2700K 62° alu
L-3-2-13-3 CLS Luxo 3 Basic CoB 3000K 62° black
L-3-2-14-3 CLS Luxo 3 Basic CoB 2700K 62° black
L-3-3-13-3 CLS Luxo 3 Basic CoB 3000K 62° white
L-3-3-14-3 CLS Luxo 3 Basic CoB 2700K 62° white
L-3N-1-13-3 CLS Luxo 3 Basic CoB 3000K 62° alu, incl. non-dim driver
L-3N-1-14-3 CLS Luxo 3 Basic CoB 2700K 62° alu incl. non-dim driver
L-3N-2-13-3 CLS Luxo 3 Basic CoB 3000K 62° black incl. non-dim driver
L-3N-2-14-3 CLS Luxo 3 Basic CoB 2700K 62° black incl. non-dim driver
L-3N-3-13-3 CLS Luxo 3 Basic CoB 3000K 62° white incl. non-dim driver
L-3N-3-14-3 CLS Luxo 3 Basic CoB 2700K 62° white incl. non-dim driver
L-3M-1-13-3 CLS Luxo 3 Basic CoB 3000K 62° alu incl. mains-dim driver
L-3M-1-14-3 CLS Luxo 3 Basic CoB 2700K 62° alu incl. mains-dim driver
L-3M-2-13-3 CLS Luxo 3 Basic CoB 3000K 62° black incl. mains-dim driver
L-3M-2-14-3 CLS Luxo 3 Basic CoB 2700K 62° black incl. mains-dim driver
L-3M-3-13-3 CLS Luxo 3 Basic CoB 3000K 62° white incl. mains-dim driver
L-3M-3-14-3 CLS Luxo 3 Basic CoB 2700K 62° white incl. mains-dim driver