PRODUCT OVERVIEW FOR OFFICES
The lighting in offices and commercial buildings largely determines how we experience the space. In a well-lit area, employees feel more comfortable, focus better and are more productive. In addition, efficient LED lighting contributes to making business premises more sustainable. From lowering the energy label to intelligent lighting control as part of a smart office. CLS LED fixtures for offices make business premises ready for the future.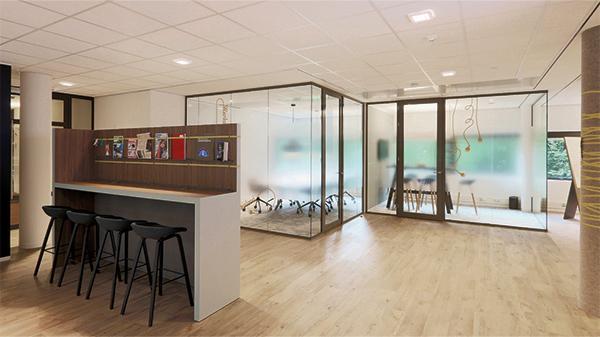 The uniform lighting of workspaces with as little insight into the light source as possible forms the basis of the lighting plan. In addition, high energy savings are potential with efficient LED lighting. Indeed when this is combined with smart control via Casambi, it is also possible to (automatically) dim or switch off lighting when rooms are not in use.
Sometimes, perfect work lighting with good colour rendering is best achieved with individual fixtures at desks or counters, particularly in places where ceiling fixtures are difficult to mount, or a lower light level between the workstations is desired. In addition to saving energy, it is also possible for employees to switch lighting on or off individually.
> FACADE AND EXTERIOR LIGHTING
Let business premises still be a landmark when it is dark. The proper lighting strengthens the architecture and the brand. Our ColourFlow fixtures allow you to illuminate a commercial building in colour—for example, the corporate colours or colours for special occasions. With the wireless control via Casambi, the luminaires can be operated without additional cabling.